On 13 November 1916 William Webb MC MM received the citation for his Military Cross, awarded for gallantry during the latter days of the Battle of the Somme. Today, members of his family paid tribute to him at his graveside. The grave has recently been restored by the Victoria Cross Trust at the family's instigation.
Pictured at William's grave are (l-r) Jason Webb (gt gt nephew), Cathryn Webb, Jean Kendall (granddaughter), Dave Filby (gt grandson) & Pat Filby. It is occasions like this that demonstrate the value of the work of the Friends of Hyde Park Cemetery.
The full story of William Webb is available to read at this link.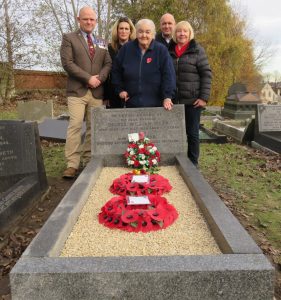 william-george-webb-mc-mm-a92