Stirling Family Grave Restoration
In December 2014, the Friends launched an appeal to raise funds for the restoration of the graves of Patrick Stirling and two of his sons. Patrick Stirling, Chief Locomotive Engineer of the Great Northern Railway from 1866 until 1895, is probably the most famous person to be laid to rest at Hyde Park Cemetery.
The grave had been vandalised around 15 years before, and the Stirling graves were among those damaged. Donations initially went towards the restoration of Patrick Stirling senior, with any additional donations going to restore the graves of Patrick Stirling junior, and Robert Stirling, alongside their parents grave.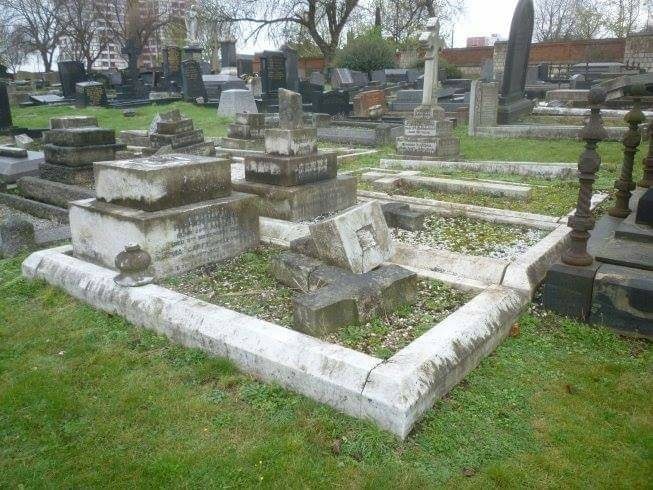 Stirling family grave before.. 
To publicise the Patrick Stirling Appeal, Doncaster Brewery produced a special beer called Stirling Single. This was developed by Ian and Alison Blaylock of the brewery, and was a dark 4.5% coffee stout.
On 3 May 2015, the wet weather relented and the sun came out for the ceremony to mark the restoration and to rededicate the graves of Patrick Stirling and his family. Although new marble crosses had yet to be added to two of the graves, yesterday's event was timed to co-ordinate with a similar ceremony in Galston, Ayrshire, for Patrick's father, the Reverend Robert Stirling. Guests included two of Patrick Stirling's great great grandchildren, who had travelled from Cornwall and Bristol to join us. Also among the visitors was a lady from Nottingham whose father had driven a Stirling Single locomotive.
Alison of Doncaster Brewery.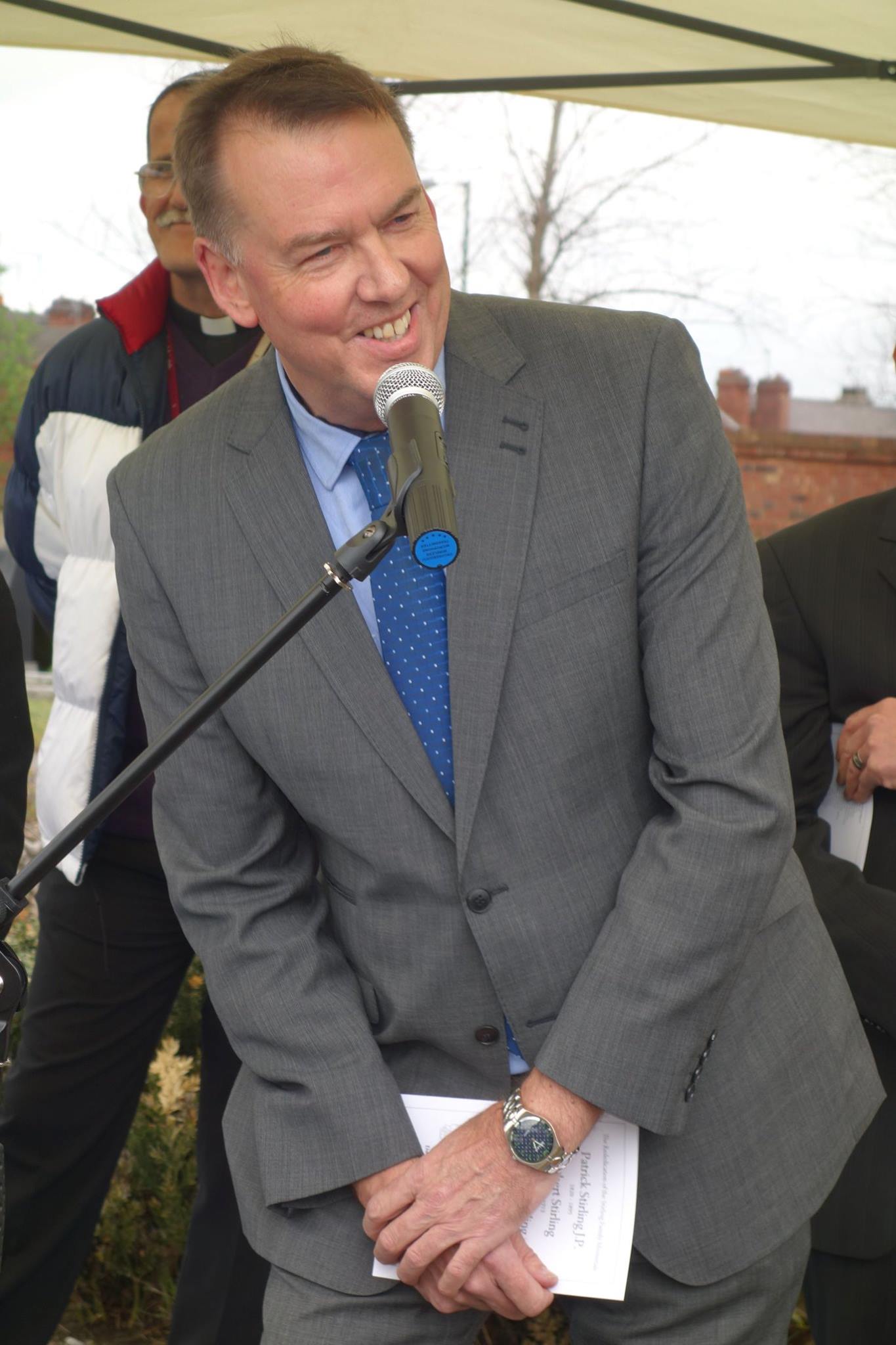 The Railway Chaplain Richard Cook was joined by Rosie Winterton MP and Patrick Stirling, great great grandson of Patrick Stirling.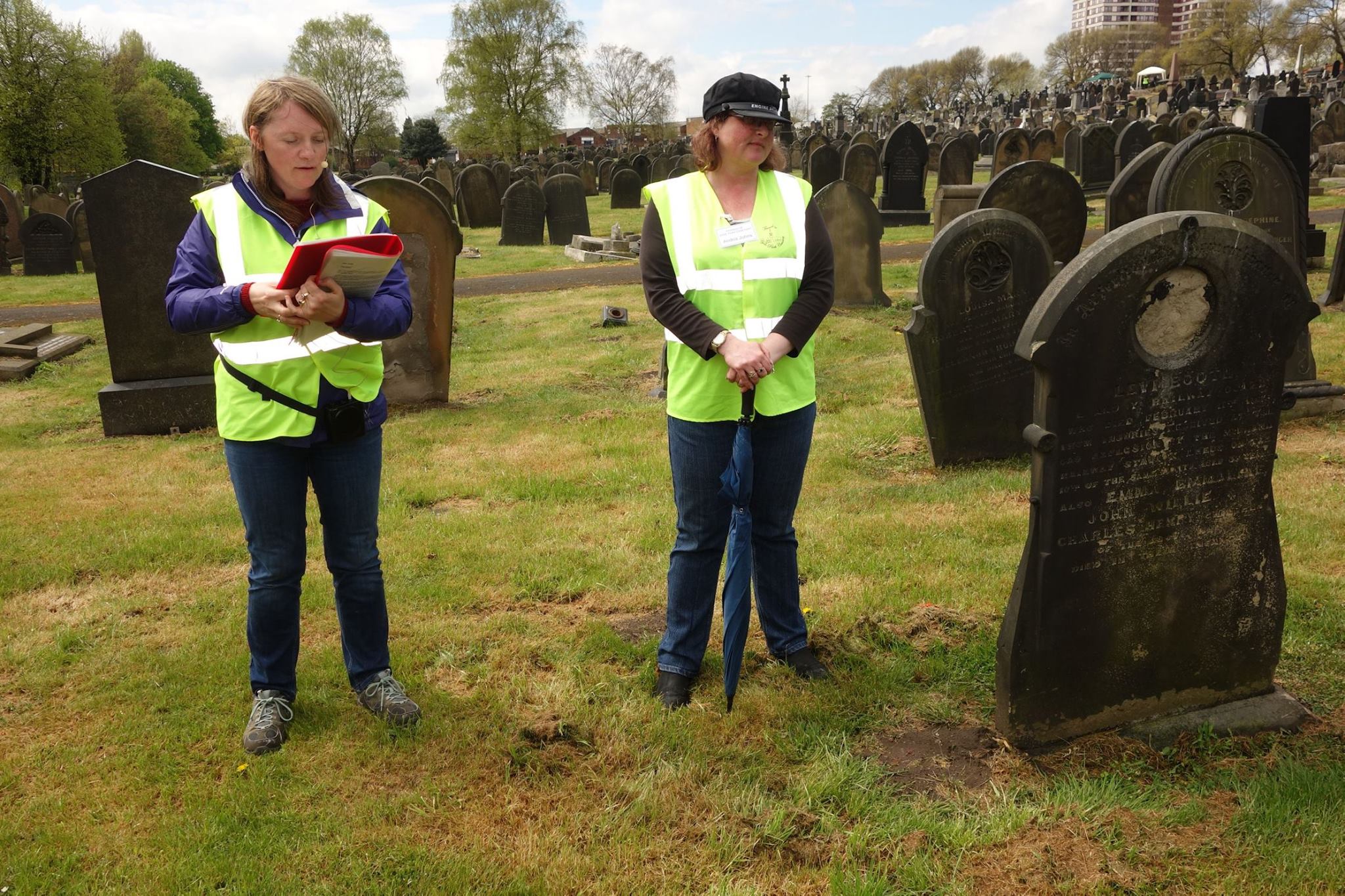 Following the formal rededication event, many of the visitors were taken on a Guided Walk on the theme of "Railways & Railwaymen", led by Andria Johns and Helen Slade of FoHPC.
The white marble crosses were installed the following month and the restoration was complete, concluding a very successful and rewarding project.
The appeal was very successful and would not have been possible without the hard work and generosity of many people and organisations. The Friends of Hyde Park Cemetery would like to thank all those who helped make it possible, including, but not limited to the following:
Graham Boyes
John Carpenter
Co-operative Funeralcare
Doncaster Brewery Tap
Doncaster Railway Pensioners
Doncaster Tourist Information Centre
Mr S J Ferrari
Linda Goldthorpe
Great Northern Railway Society
Allan Henshaw
Malcolm Jevons
Gill Johnson
Nigel Megson
George Napier
Julia Roberts
Edward Snowden
Molly Stirling
Patrick Stirling
Victoria Cross Trust
Wabtec Rail Ltd
Symeon Waller
Robert Wise
Kenneth Woods
…and many other who have supported the appeal anonymously.
A copy of the Order of Service for the rededication event can be found here.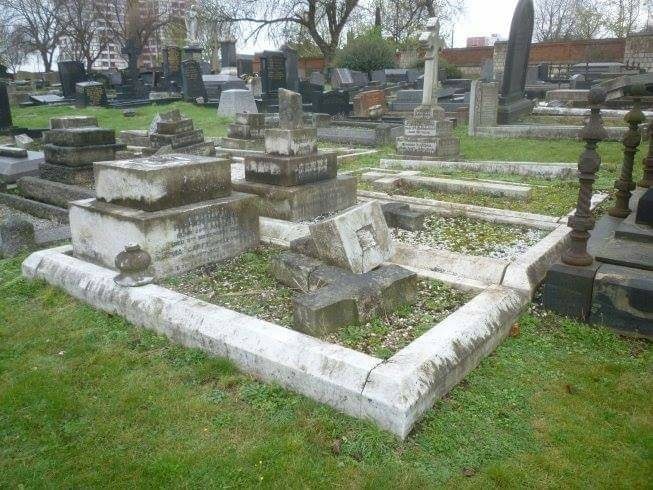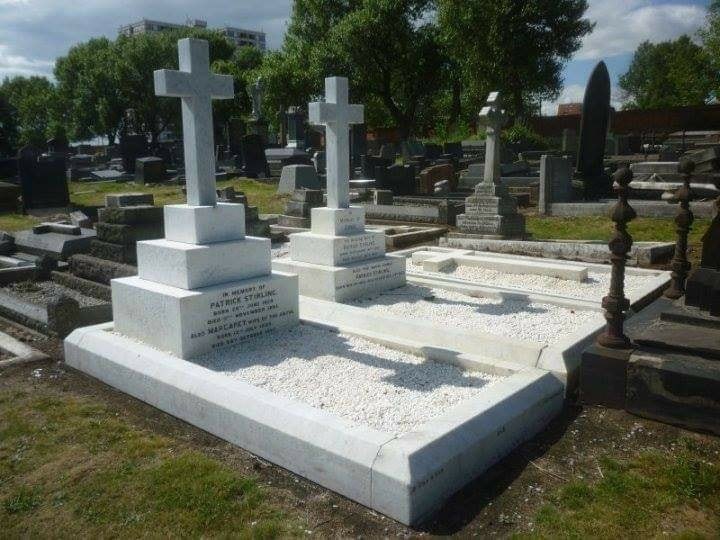 Stirling grave, after restoration