2018
Here are all the news items for 2018.
An enthusiastic band of five volunteers achieved a lot at today's monthly Working Morning. Among the tasks completed were:
Preparing the Pickering grave for its stone cleaning and new chippings
Re-erecting two Heritage Circuit posts (one of which had been pulled up and carried about 200 metres away
Relocating a headstone that was found on the New Street embankment slope to its proper location
Clearing lots of intrusive vegetation from in amongst our largest yew tree
Litter picking
We were also delighted to welcome local RSPB members to the cemetery. They have kindly agreed to carry out bird surveys before and after the creation of our Wildlife Corner. The magpie on the photo waited until they had left before putting in an appearance!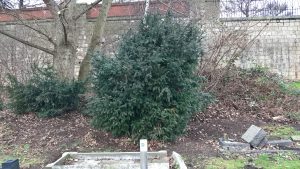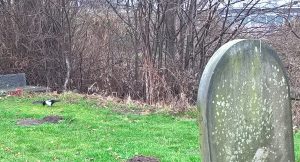 These are typical of the sorts of things that you may be asked to help with, if you join us at a future Working Morning, on the second Saturday of every month. The next session is on 10th February, from 9:30am until noon.
Here is a gentle reminder that our next open meeting and AGM is to be held in the meeting room at Club 39, 39 College Road, Doncaster, DN1 3JH on Monday 22 January 2018 at 7:30pm. Please see the map below for how to find Club 39. Car parking is readily available in the Civic Quarter multi-storey car park, just across the road. The club shares its entrance with Sticky Mits Childcare Centre. Just press the button by the door to be admitted.
Our guest speaker, Lynsey Slater, will give an illustrated talk on The King's Own Yorkshire Light Infantry: Stories from the First World War. Hyde Park Cemetery contains a dozen war graves of fallen members of that regiment.
During the formal (but brief) business of the Annual General Meeting, we shall elect the officers and committee of FoHPC for the next twelve months. While most of the existing committee members are standing for re-election, there are several vacancies, too. We have lots of ideas and aspirations for building on the great progress that we have made in the past few years, but we are constrained by the limited number of active volunteers that are available. If you have a few hours a month available and would like to help us to realise our ambitions, please get in touch. You can do so either by replying to this email or by calling me on 07777 688438.
The meeting will also include a review of the Friends' activities over the past 12 months. Free light refreshments will be available. The meeting is open to members and non-members. We shall be delighted to see you there.
Having secured an environmental grant from Greggs Foundation, we expect work to begin on our proposed Wildlife Corner in early February. using volunteers led by The Conservation Volunteers (TCV), the project will transform the south western extremity of the cemetery. Low value vegetation will be removed, along with all litter and debris that is found. Then the embankment slope will be prepared for the planting of a range of quick-growing, wildlife-friendly shrubs.
This image of the existing condition of the area confirms that the makeover is well overdue.