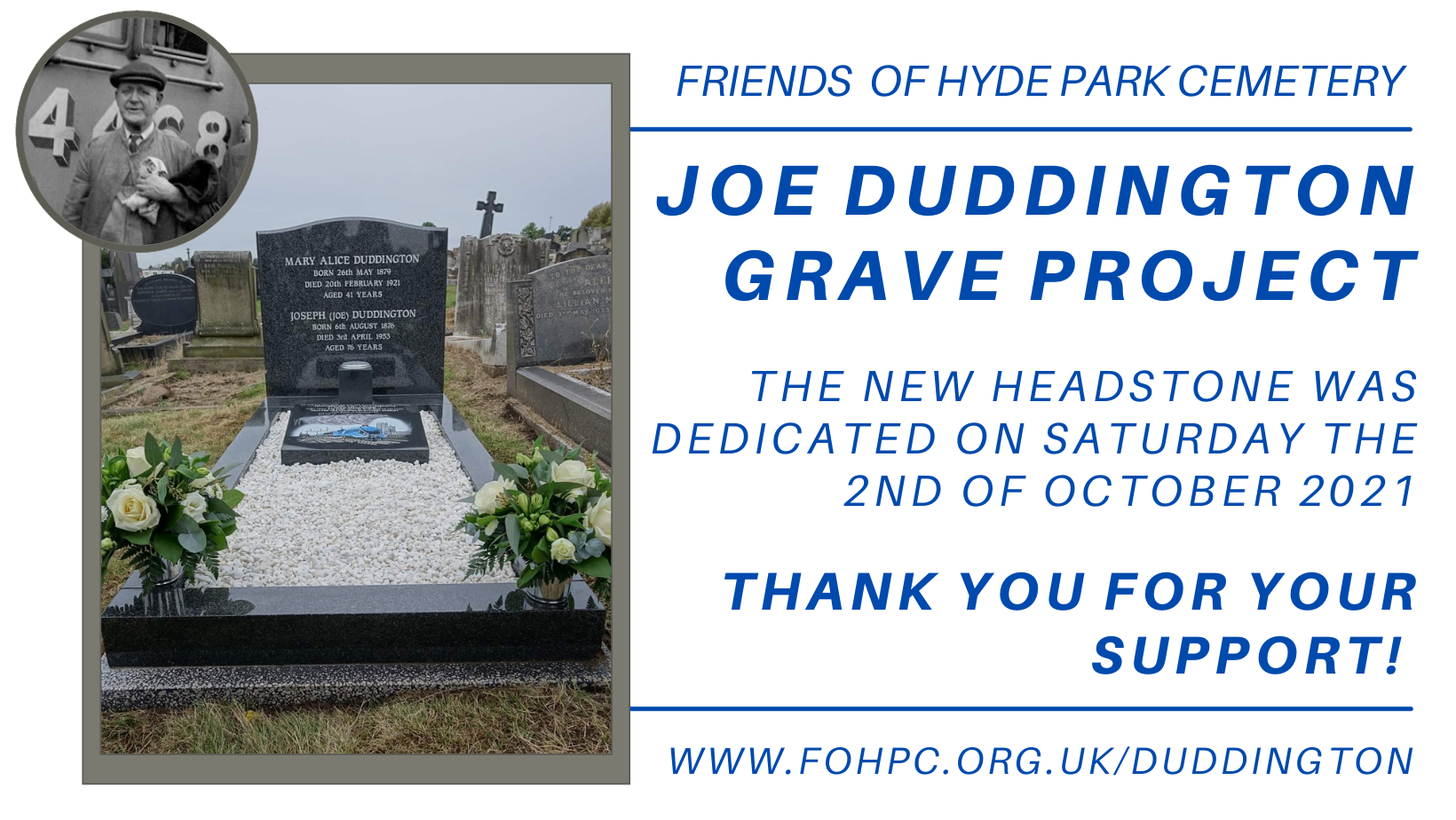 The history of the Joe Duddington Grave Marking Project
In early 2021, The Friends of Hyde Park Cemetery launched a fundraising appeal to mark the grave of Joe Duddington. Joseph (Joe) Duddington was born in Doncaster in 1876. His father Thomas worked as a railway fireman and Joe followed him into the railway industry. Joe married Mary Alice Lane in December 1900 at Christ Church, Doncaster. The couple lived together with their children in Doncaster. Mary Alice died in 1921 at 103 Catherine Street, the family home. She was 41. Joe married Florence Goodlad in 1935.
On the 3rd of July 1938, Joe was the driver of the A4 Pacific Class Steam Locomotive, 'Mallard', when it broke the world speed record for steam locomotives, a record that stands today. He was personally selected by Sir Nigel Gresley, the designer of the 'Mallard', for this important role. Joe worked for the LNER until his retirement in 1944.
A video from British Pathe showing Joe Duddington on his retirement in 1944. 


Extract from the death and burial registers, courtesy of Doncaster Archives
In his later years he lived at 75 Broadway in Dunscroft, Doncaster. Joe died on the 3rd of April 1953, aged 76.
Despite playing a pivotal role in this still unbroken world record, when Joe died in 1953, he was buried in an unmarked grave in Hyde Park Cemetery, Doncaster.
Our initial target was £2000 but in less than two weeks we had not only hit but far exceeded the target. When we closed our appeal, we had raised over £7000 in remembrance of Joe. These funds enabled us to not only get a headstone, but kerbing and a decorative slab detailing the record breaking run, and a memorial bench for Joe in a bespoke design. 
This headstone not only remembers Joe and his wife Mary Alice, but also marks his huge achievement and his importance in the railway history of Doncaster. 
The grave site before the installation of the headstone..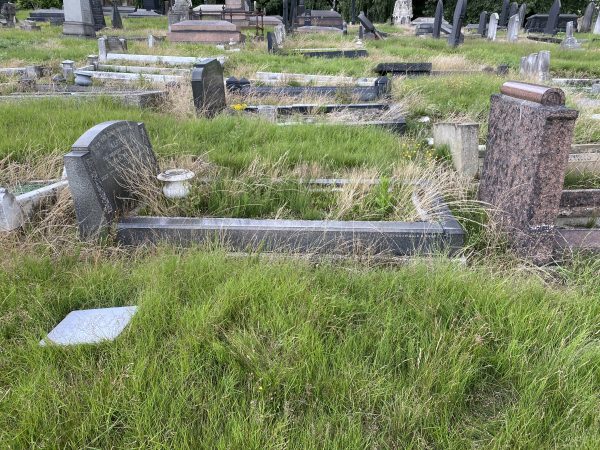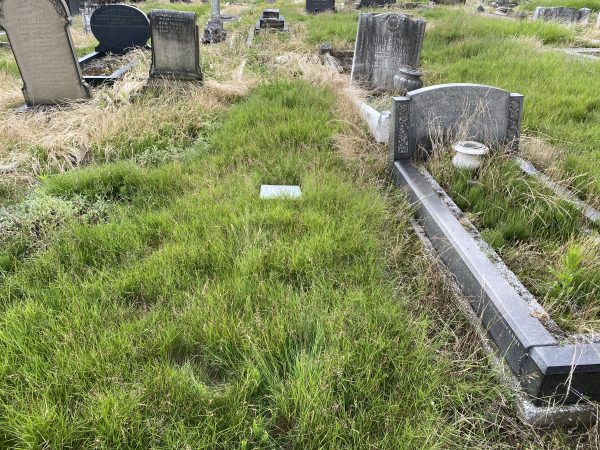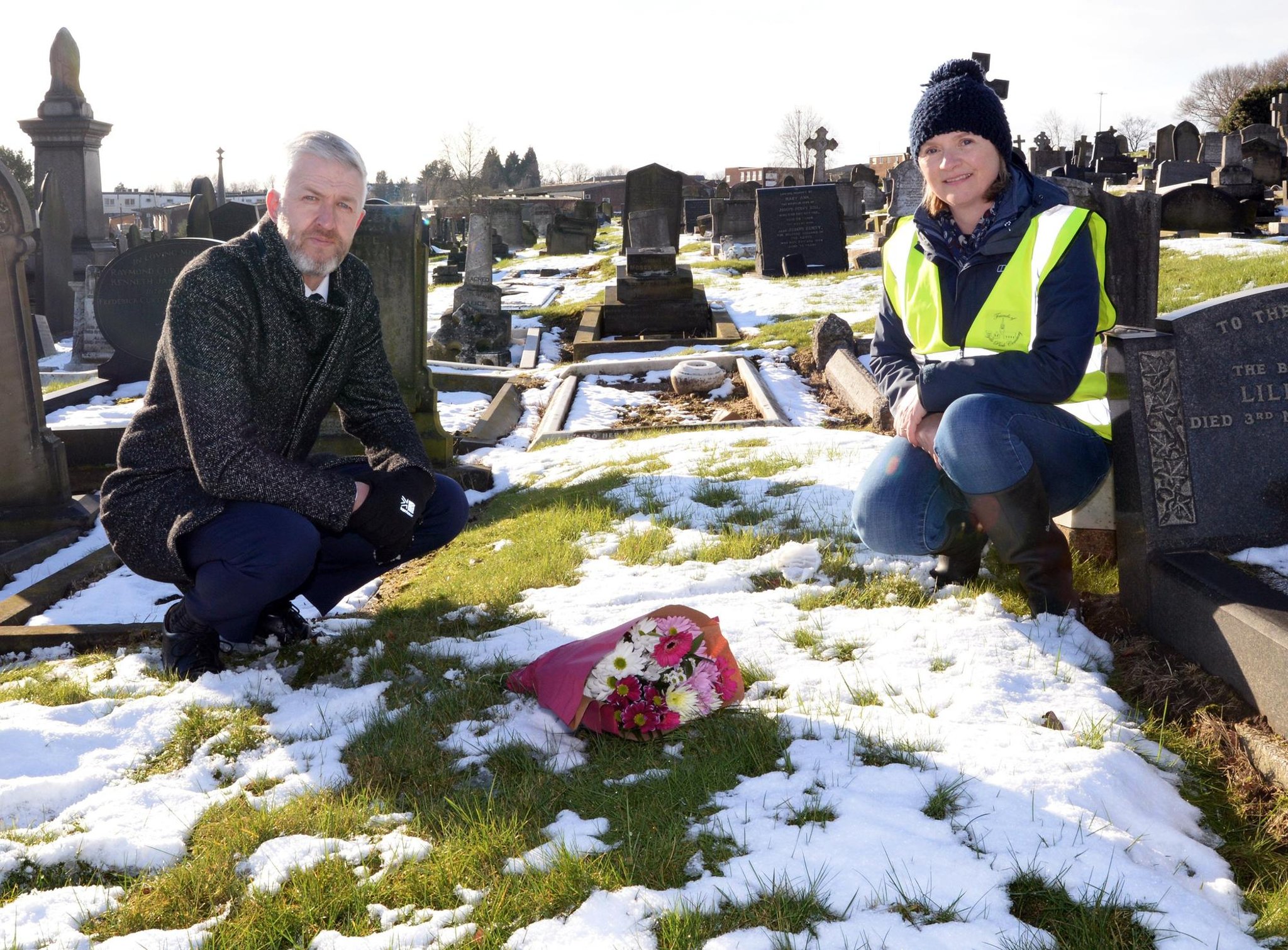 Matthew Delaney, Joe's great-grandson, and Helen, Secretary of the Friends of Hyde Park Cemetery
The Joe Duddington Grave Dedication Event
On Saturday the 2nd of October we were joined at the cemetery by members of the extended Duddington family, railway enthusiasts, local historians, representatives of the LNER and ASLEF, a band member of Big Big Train, and many many more in remembrance of a railway hero. 
We were absolutely blown away by how many people joined us, through the rain, to remember Joe Duddington and his wife Mary Alice.
Not only did we unveil the new headstone, but also a brand new bench in memory of Joe, created to a bespoke design by local company Solid Oak Designs. 
The new headstone was dedicated by Rev. Cpt. McCarthy of St James Church, with speeches from Rt Hon Dame Rosie Winterton MP and Councillor Glyn Jones, Deputy Mayor. You can download a copy of the Order of Service here. 
It is difficult for us to articulate just how overwhelmed we have been by the response to Joe's appeal and how bursting with pride we are to now see him remembered.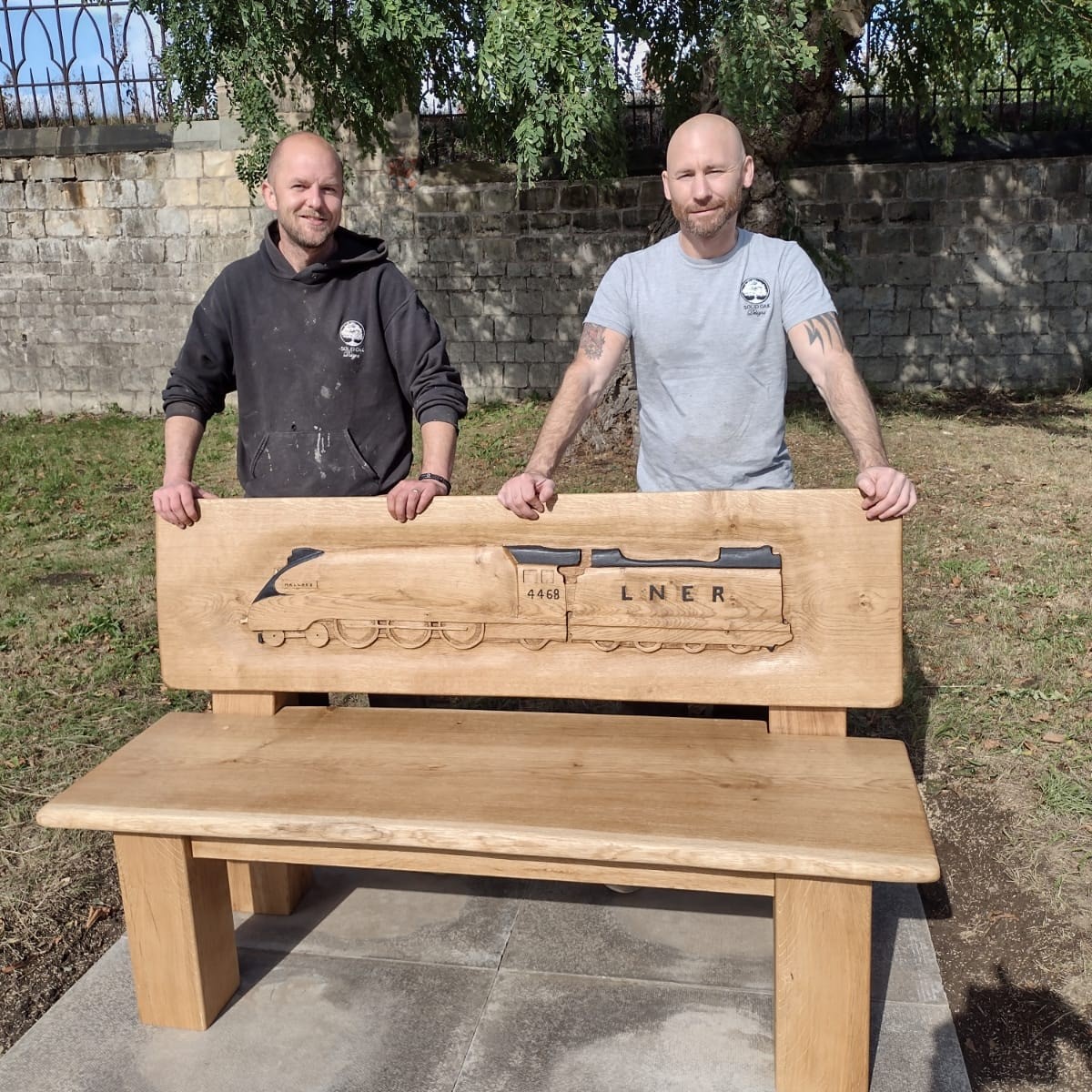 If you would like to visit to view Joe's grave, it can be found in section E of the cemetery. You can see the approximate location from the map below. The grave is a few rows back from the path so please take care.