Today's Working Morning was the 100th volunteers' work session at the cemetery since the formation of the Friends group. Regular monthly events began in April 2010 and have taken place every single month since then. In addition, four specially arranged litter picks have occurred in recent years. That makes 100 session overall! Quite a milestone, we think.
The wet weather didn't deter the small but hardy band at today's event. Litter picking and cutting back shrubs were the main activities.
We were pleased to note that Doncaster Council had replaced the burnt-out bin near to the Green Dyke Lane gate (see before and after photos). Thank you to all involved in making that happen.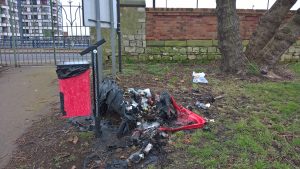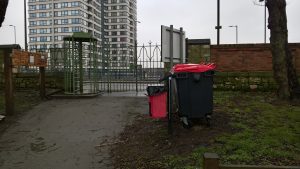 Much less pleasing was the amount of dog fouling evident around the cemetery. It is in a worse state than we ever recall previously. If you see a dog owner failing to clean up after their pet, please report the incident to Doncaster Council on 01302 736000.