An enthusiastic band of five volunteers achieved a lot at today's monthly Working Morning. Among the tasks completed were:
Preparing the Pickering grave for its stone cleaning and new chippings
Re-erecting two Heritage Circuit posts (one of which had been pulled up and carried about 200 metres away
Relocating a headstone that was found on the New Street embankment slope to its proper location
Clearing lots of intrusive vegetation from in amongst our largest yew tree
Litter picking
We were also delighted to welcome local RSPB members to the cemetery. They have kindly agreed to carry out bird surveys before and after the creation of our Wildlife Corner. The magpie on the photo waited until they had left before putting in an appearance!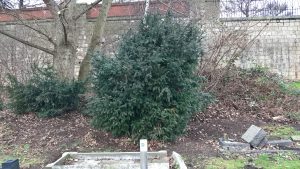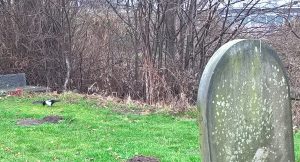 These are typical of the sorts of things that you may be asked to help with, if you join us at a future Working Morning, on the second Saturday of every month. The next session is on 10th February, from 9:30am until noon.